Yellow Jacket Sports (November 14 – November 20)
11/18-19  Boys and Girs Swim 2022 LHSAA Division 1 State Championship @ Sulphur Parks and Recreation Aquatic Center, Sulphur, LA
11/18-19 Lady Jackets Varsity Soccer Loyola Tournament
---
New Today
Students – Renaissance Honor Roll Days will be TODAY.  Please share with your students, and explain to your freshmen, especially that they will come to the LC during lunch on Monday to get their treats, and come back on Tuesday, 11-15-22, for the Ice Cream (A/B Honor Roll) and Pizza (A Honor Roll).
Stamp Collecting Club – Our Stamp Our Stamp Collecting Club will meet during the EIP in our cafeteria TODAY. Our theme is the Centennial of the Opening of King Tut's Tomb on postage stamps.
JUNIORS – Josten's will be here TODAY. Juniors will also be able to turn in their ring orders at that time as well.
Students – Are you interested in participating in Film Prize Jr? If you have an idea for a short 3-10 minute live-action film, are interested in script writing, pre-production, editing, or filming, see Mrs. Smith in room S307 as soon as possible!
Students – If you're looking for volunteer hours, for every five cans you donate, Mrs. Carberry will sign off on one volunteer hour. These donations need to be above and beyond club and/or class requests! All donations need to be turned in to room 202 by TOMORROW morning.
2022 FALL LEAP 2025 EOC RETEST – The 2022 Fall LEAP 2025 testing window will open November 29, 2022. This administration will be for those students who have previously been unsuccessful on parts of the LEAP 2025 exam. Only select students are eligible for the retest. Eligible students will be given individual notices of the dates and times they are scheduled to test. Contact LWJohnson, Assistant Principal if you have questions and/or concerns. lwjohnson@caddoschools.org or 318-364-5462
Congratulations to Catherine Briery who was nominated by Ms. Waters for the "A Slice of Nice Award" sponsored by Johnny's Pizza House's way to recognize young people in the Ark-La-Tex who are making a difference through acts of service, kindness and giving. Every month, Johnny's Pizza House and KSLA will feature a local young person under the age of 18 who has done something positive, whether it be something large or small. Catherine will be recognized on-air and receive a free large, one topping pizza each month for one year!  Congratulations, Catherine, and thank you, Ms. Waters for nominating her! 
Final Exam Schedule:
Thursday, December 15, 2022 – 2nd and 4th Period Exams
Friday, December 16, 2022 -1st and 3rd Period Exams
Monday, December 19, 2022 – 5th and 6th Period Exams
Tuesday, December 20, 2022 –Makeup Exams and 7th Period Exams
School will be released at 1:00 p.m. each of these days.
COVID – Schools are still required to report POSITIVE cases of COVID-19. If a Byrd student tests positive for COVID-19, please contact Lisa Walker Johnson, Assistant Principal for a return to school plan as per the current guidelines. You will need to report the day the student tested positive and the last day the student was on Byrd's campus. Lisa Walker Johnson, Assistant Principal • lwjohnson@caddoschools.org or 318-364-5462
---
MORE INFORMATION
College Visits – Digital Media November 28
Winter 2022 Louisiana Tech Dual Enrollment–Deadline to Apply December 2nd. Winter quarter registration is only available for students who were not able to register for fall quarter classes. Students already enrolled in a dual enrollment course and wish to continue, will wait for spring quarter registration. CLICK HERE for full details.
Students – ACT Boot Camp for the December test will be Saturday, December 3, from 12:00 until 3:00 pm in the Learning Center.  If you wish to sign up, please call Sherri Moss at 318-572-5507 or register.  Space is limited!
ASVAB Test – If your child would like to take the Armed Services Vocational Aptitude Test (ASVAB) I need his/ her name by December 9, 2022. We are offering this to all 11th graders, and any 12th graders who indicate that they are interested. The test will be given on Wednesday, January 11, 2023, in the Learning Center.  Please encourage your students to sign up. This is a great way for them to find out what will benefit them most when they graduate from high school. This is the only time this test will be offered at Byrd this year.   If you have any questions, please email Mrs. Prothro at MProthro@caddoschools.org.
ACT Fee Waivers are available in the Counseling Office for juniors and seniors who meet the criteria for free/reduced lunch. Students are eligible for 4 fee waivers during their junior and senior years. When registering for the ACT with a fee waiver, students receive free ACT prep available through their ACT accounts. Please see your counselor if you have any questions.
Seniors – You must complete one of the following financial aid steps IN ORDER TO GRADUATE: 1)Complete the FAFSA (available at studentaid.gov) This is your TOPS application, as well as application for federal grants and student loans; 2) Complete the Louisiana TOPS form- if you are not completing the FAFSA (available at mylosfa.la.gov). If you choose this step, you must print a confirmation and bring it to the Counseling Office; 3) A parent or legal custodian, or a student legally emancipated or of the legal age of majority, may certify a waiver in writing to the LEA (See Mrs. Byrd for this form) . Only one step is required- you will not complete the FAFSA and the TOPS form. The FAFSA is also the TOPS application. The FAFSA application is available beginning October 1st. Students should complete the 2023-2024 FAFSA application using 2021 income tax information. The FAFSA Completion Guide is attached to this e-mail and is also available on the Class of 2023 Canvas page. CLICK HERE for FASFA Completion Guide.
Calling all students – The Mendeleevian Society is looking for submissions for our annual Mendeleevian Society Symposium in March. If you are interested in participating or would just like more information scan the QR code on one of the flyers located around the school or see Mrs. Comerford in S202.
---
Support Your Fellow Jackets!
Byrd Baseball Booster Blanket Sales – Support your fellow jackets by purchasing a spirit blanket! These make great Christmas gifts and we have them in hand ready to deliver. CLICK HERE to order.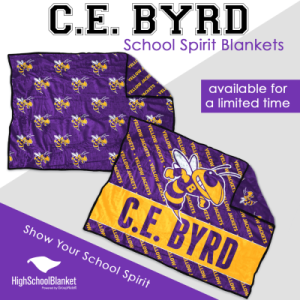 ---
Student Opportunities:
Volunteers Needed – Christmas In Roseland CLICK HERE to sign up. You need to sign up before November 10th.
Dates: November 25, 26, 27 • 4:45-9:30 PM  –  December 2, 3, 4, 9, 10, 11, 16, 17, 18  – Encore Nights: December 19, 20, 21, 22, 23 4:45 PM-9:30 PM
Student Opportunity – SUSLA Aerospace Tech Center Open House
---
Scholarships & Contests
Student of the Year – We are beginning the process of selecting our 2023 Student of the Year. The selection process and procedures for resolving issues and disputes related to the selection of candidates are attached. Please review this information and contact Amanda Byrd at asbyrd@caddoschools.org if you have any questions. CLICK HERE for Student of the Year Guidelines and Grievance Procedures
Students – If you are interested in entering any poster contests, please see your teacher or Mrs. Prothro. CLICK HERE for info.
Students 9-12 th grades – Do you have 100 or more volunteer hours from March, 2022 to March 1, 2023? If so, you are eligible for the Presidential Volunteer Service Award which is a national award to recognize people who are committed to community service to make our world a better place. Please bring your volunteer sheets with your total number of volunteer hours to Mrs. Prothro or email them to her at MProthro@caddoschools.org. If you have any questions, please call (364-5455) or email Mrs. Prothro. Any community service through school, nonprofit organizations and church activities can be counted toward your total number of community service hours. Attached is a volunteer log sheet if you would like to use it; however, you do not have to use this one. I will accept any log sheets that has the activities and hours listed. The deadline is March 1, 2023. CLICK HERE for log.
10 -12th Grade Students – The Jumpstart Summer Enrichment Program (JSEP) is sponsored by the Office of Diversity Affairs at Louisiana State University Health Shreveport. The program targets students interested in pursuing careers in Medicine, Dentistry, Biomedical Research or Allied Health Professions. The JSEP program allows area high school students, grades 10-12, the opportunity to participate in eight weeks of hands-on research activities mentored by faculty at LSU Health Shreveport. Students must be 16 years old by the start of the program (June 1, 2023). CLICK HERE to apply. The applications will open November 1st. The deadline to apply is January 20th.  Please see your counselor for more details.
Raising Cane's Color Your Cane Contest • November 4 – November 16 – Drop your coloring sheet at any Shreveport-Bossier Restaurant for a chance to win! One winner will be selected from each location. First place winner will receive the basket, and a Kid's Combo Card for each person in their class! Places 2-5 will receive a kid's combo award. Winner's Announcement – November 17th Raising Cane's will notify the Principal of the students selected and will identify arrangements for pick up. CLICK HERE for coloring sheet.
Perspectives is now accepting entries for this year's publication. Perspectives is C.E. Byrd's literary magazine. We publish all types of creative writing and visual art created by current Byrd students. Selected entries are published in a beautiful, full-color magazine printed at the end of the school year. All students who are published in the magazine will receive a free copy to enjoy. Look for QR codes around the school or ask your English teacher for the entry form. Deadline: February 3. Use this link to submit your entry: https://forms.gle/hhxnF6bsF97LqBZPA
Seniors – The Christmas on Caddo Fireworks Festival Scholarship application is available in the Counseling Office and the Class of 2023 Counseling page. First place winners will earn a $350 scholarship. Application deadline is Monday, November 28th.
Juniors – The Coolidge Scholarship is a full-ride, four-year, merit scholarship that may be used by recipients for undergraduate study at any accredited college or university in the United States.  Any high school junior who plans to enroll in college in the fall of 2024 and is an American citizen or legal permanent resident is eligible to apply.  Winners may use the scholarship to pursue any academic major. The scholarship application, along with additional information, can be assessed on the scholarship site: www.coolidgescholars.org.   More detailed information can also be found on the Class of 2024 Canvas page. The submission deadline is 5:00 p.m. eastern time, Thursday, February 23, 2023.
CLICK HERE for all scholarship opportunities.
CLICK HERE for a full list of community service opportunities.