Yellow Jacket Sports (February 28 – March 6)
3/1  Boys Lacrosse Varsity vs. St. Thomas More @ CE Byrd | 6:00 pm
3/2  Boys Lacrosse JV vs. Captain Shreve @ Lee Hedges | 7:00 pm
3/5  CE Byrd Track @ ULM Meet • ULM Monroe, LA
3/5  Boys Lacrosse JV vs. St. Paul's @ CE Byrd | 4:00 pm
3/5  Boys Lacrosse Varsity vs. St. Paul's @ CE Byrd | 6:30 pm
---
NEW TODAY
Teacher Appreciation Week 2022 is March 28- April 1. Let's show our thanks and gratitude to our teachers, faculty and staff for all they do in and out of the classroom. We appreciate all their efforts and want to make them feel extra special. CLICK HERE to make your grade-specific donation to help provide lunch daily and gift cards. You can also scan the QR code below. Thank you!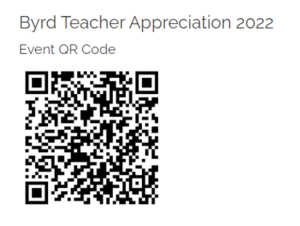 11th Grade Girls – If you are interested in attending Girls State of Louisiana, please see Mrs. Prothro. CLICK HERE for info.
Students 9-12th grades – Do you have 100 or more volunteer hours from March, 2021 to March 1, 2022?  If so, you are eligible for the Presidential Volunteer Service Award which is a national award to recognize people who are committed to community service to make our world a better place.  Please bring your volunteer sheets with your total number of volunteer hours to Mrs. Prothro or email them to her at MProthro@caddoschools.org.  If you have any questions, please call (364-5455) or email Mrs. Prothro.  Any community service through school, nonprofit organizations and church activities can be counted toward your total number of community service hours.  Attached is a volunteer log sheet if you would like to use it; however, you do not have to use this one.  I will accept any log sheets that has the activities and hours listed.  The deadline is TODAY. CLICK HERE for Volunteer Log.
Scholarship – The Louisiana State University College of Engineering with a grant from the National Science Foundation will award 15 scholarships as part of the Preparing Resilient Individuals to Succeed in Engineering (PRISE) – A Scholarship Program Focusing on the Retention and Success of Underprepared Students in Engineering. The scholarship amount varies and will average $2,500 per semester for a maximum of 8 semesters. Please see the Class of 2022 Canvas page for the link to this application. Deadline to apply is TODAY.
Scholarship – The Tem McElroy scholarship application is available at https://cfnla.org/scholarships/ You must create an account to apply. Students must have a 3.0/4.0 gpa, have taken or be currently enrolled in calculus and physics, and plan to major in science, technology, engineering or math. Deadline to apply is TODAY.
Scholarship – The Pete Aldridge scholarship application is available in the counseling office or on the Class of 2022 Canvas page. Students must have a 3.0/4.0 gpa, have taken or be currently enrolled in calculus and physics, and plan to major in science, technology, engineering or math. You must include a statement of financial need. Applications must be returned to Mrs. Byrd in the Counseling Office by TODAY.
Sophomores who took the PSAT – The PSAT 10 will be administered TOMORROW. Only students who previously took the PSAT in October will test on this date. Testing will begin promptly at 8:30 in the Learning Center. You should receive information from your English teacher. If you do not receive it, please see Mrs. Byrd in the Counseling Office.
Seniors – Did you attend University Elementary?  If so, please see Mrs. Prothro.  They have asked you to come to their 5th-grade celebration on April 22.  You will be excused from school.
Students – CLICK HERE for 2022/2023 Transfer Information for parents/legal guardians, staff, and the community that reside within the geographic boundaries of Caddo Parish.
Astra Club – Mrs. Prothro needs volunteers to work at Reruns Are Fun located in the old Waddell's Frame Shop on 9260 Ellerbe Road.  The dates and times are in her office.  Please see Mrs. Prothro or email her at mprothro@caddoschools.org
May 2022 AP Exams – The deadline is approaching for making changes to AP exam orders.  Check with your AP teacher or see Ms. Eason in the counseling office to verify which exams you ordered.  If you would like to make changes to your exam order, you must email Ms. Eason at peason@caddoschools.org.  Any exams ordered or canceled will result in an additional $40 fee.  The deadline to make changes is 8:30 AM on March 15.
---
MORE INFORMATION
College Visit – Navy THURSDAY
College Visit – LSUS 3/7
ACT Testing – On March 8 the freshmen will take the Pre-ACT and the sophomores will take the ACT.  On March 15 the juniors and seniors will take the ACT.  On Track Test Prep will hold a clinic on March 5, 12:30-3:30 in the Learning Center.  There will be another clinic on March 12th for juniors and seniors only from 9:00 – 12:00.
Students – A representative from Jean Simpson Personnel Services will be available outside the cafe during both lunch shifts on Friday, March 11. Jean Simpson Personnel Services is a staffing company that assists employers in finding temporary or full-time employees. They are able to assist with event staff, security, catering, clean-up crew, receptionists, data entry clerks, floral design, and more.
The Allied Health Education and Discovery (AHEAD) Program is a 5-day summer program for Louisiana high school students interested in exploring the health career programs offered at LSU Health Shreveport – School of Allied Health Professions: Medical Laboratory Scientist, Occupational Therapist, Physical Therapist, Physician Assistant, Public Health Professional, Respiratory Therapist, Speech-Language Pathologist. Apply today at www.lsuhs.edu/AHEAD! Applications are due March 15, 2022. For more information, please contact: Madeline Barclay, MPH at madeline.barclay@lsuhs.edu
Mamma Mia! – The full list of performances is as follows: Thursday, March 31, 2022 at 6:00 pm • Friday, April 1, 2022 at 6:00 pm • Saturday, April 2, 2022 at 2:00 pm • Saturday, April 2, 2022 at 6:00 pm • Sunday, April 3, 2022 at 3:00
College Visit – University of Arkansas, 4/11
Juniors who took the PSAT – We will administer the SAT to those juniors who took the PSAT in October. The SAT will be given Wednesday, April 13, at no cost to students. Students must see Mrs. Byrd or Mrs. Lacy in the Counseling Office to pick up the paperwork.
Show your school spirit: SUPPORT BYRD BASEBALL! CLICK HERE: https://www.locallevelevents.com/events/details/18302
Students – The Louisiana Lions Camp is currently recruiting high school students, ages 16+ to fill summer staff positions. Information is available in the counseling office.
Lyle Leaders – If you are interested in attending the Louisiana Youth Seminar, please see Mrs. Prothro.  We have been offered some scholarships, and you will not have to pay the full cost, and it may not cost anything at all.  It is first come, first serve.   Attached is the brochure with information.  Email Mrs. Prothro at MProthro@caddoschools.org or call Mrs. Prothro at 364-5455. CLICK HERE for flyer.
Seniors – If you were interested in applying for LSU Baton Rouge, but did not complete the application due to difficulty or cost, please let Mrs. Byrd know as soon as possible. The LSU admissions representative will come on campus to assist with this process.
At Home Academy Test Prep and Tutoring Schedules – Click the links below for the 4 schedules available for the February 12 and March ACT tests. Contact info: Beth Woods (318-465-6475) Visit www.athomeacademy.net for schedules and registration. CLICK HERE: March Weekday • CLICK HERE: March Weekend
Summer Job Opportunity – Splash Kingdom Oasis in Shreveport is gearing up for another fun and exciting summer season. We are currently looking for hardworking individuals to join our team! We have several different opportunities for the 2022 summer season. We are hiring starting at $9-$12 an hour! Positions available include, dispatchers, guest service, food service, security, and lifeguard! (Security position 21+) All applications are online at www.splashkingdomwaterpark.com
Student Opportunity – Swim Instructor @ Geaux Swim located at 231 Mt. Zion Road, Shreveport, LA – the newest indoor pool in the city! No previous experience necessary, we train on site!  $14 per hour, flexible schedule. Contact Travis at 318-614-3340 or apply on Facebook job posting! Check us out at www.geauxswim.com
Upcoming Deadlines:
Contest – CADA: Essay Contest for all high school students. Topic: Living my Best Life Things I Do to Deal with Stress. Deadline April 5, 2022. CLICK HERE for rules and info.
Volunteer Opportunities:
Volunteer Opportunity – Volunteer for Southfield's Pie Run on Saturday, March 5. We have several slots to fill including turn marshals, set up/breakdown, packet pick up, and water stops. Volunteer opportunities are open to any student who would like to help and/or needs service hours. Thanks for your help getting the word out! https://www.signupgenius.com/go/10C0E4DA5A628A6FCC07-southfield
Service Hour Opportunities – Softball is about to start its season and they have a ton of home games this year.  They are hoping to get some student volunteers to help run the concession stand this year.  Volunteers will just need them to help take orders and serve.  Click the link to sign up. https://www.signupgenius.com/go/10C0F4EACAC2CABF4C16-2022
Volunteer Opportunity – IDEAS Day is a completely free event put on every spring by LSUHS-Shreveport Science Matters Interest Group for the kids in the community to learn about various fields in STEM. There will be numerous demonstrations set up that are sponsored by departments and organizations on and off campus, hopefully giving our local kids a wide exposure to the world of STEM. Last year IDEAS Day was held virtually due to Covid-19, and we are so excited to have it this year back in person! This year IDEAS Day will be held outside at LSU Shreveport on March 26, 2022 from 9am-12pm. We will need volunteers for set-up, check-in, working the booths, traffic flow, and clean-up. CLICK HERE for the volunteer link to sign up for a shift or the whole event.
CLICK HERE for a full list of community service opportunities.