Yellow Jacket Sports (May 24 – May 30)
---
NEW TODAY
Seniors – Please check the Class of 2021 names list in your English class, or the Class of 2021 Canvas page. You need to verify that your name is spelled correctly for the graduation program as well as your diploma. If there are any errors, please notify Mrs. Byrd at asbyrd@caddoschools.org.
Seniors and senior parents – Important graduation information has been posted to the Class of 2021 Canvas page in the Graduation Modules. There is an information sheet, as well as a graduation video that explains what to expect at graduation. Please review this information. Tickets for graduation are now available.
Seniors and senior parents – Please use a personal email to receive your graduation tickets. You will not be able to receive them on your Caddo student email.  This is a safety/security feature to protect the students.
Seniors – We will not have final transcripts, grade point average, or class rank until mid-June. Students can complete the final transcript request form and pay on locallevelevents.com and they will be mailed as soon as they are received. Please see attached information for dual enrollment, CLEP, and AP transcripts. CLICK HERE
Astra Club Members – Come by Mrs. Prothro's office to vote for Astra Club officers.  Ballots are on her desk.
CLICK HERE for information regarding C.E. Byrd's Writing Camp.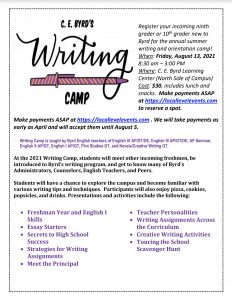 CLICK HERE for application and information on the Merit Award from Ternium.
CLICK HERE for the Registration Form for the Caddo High School Credit Recovery "Virtual" Summer School – Session 1: June 7 – June 30 (15 Days of Instruction) The online registration is from June 1-4, 2021. Complete this form between June 1 – 4, 2021 to register for summer school Session 1 (June 7 – June 30, 2021). Instruction will take place through Edgenuity/Canvas Classroom with teacher support available Monday – Thursday from 8:00 am – 2:00 pm. There is no cost for the 1/2 credit course. Upon principal approval, you will receive an email/phone call with next steps for beginning the class.
Attention incoming freshmen: Pep squad fitting dates are Wednesday, June 9 from 12-1:30 pm. All fittings will be in the learning center on the kings highway side of the school. You only have to attend one fitting. The price of pep squad this year will be approximately $550. Please contact Coach Duncan for any more information. Mduncan@caddoschools.org
Upcoming Deadlines:
The Louisiana Folklife Center at Northwestern State University is sponsoring the NSU Louisiana High School Essay Contest. This is open to students in grades 9-12. Students will address the prompt "Louisiana Heroes". Winners will be awarded a $1600 scholarship to NSU. The deadline is June 1. Additional information is available in the counseling office or at https://louisianafolklife.nsula.edu.
Volunteer Opportunities:
CLICK HERE
for a full list of community service opportunities.