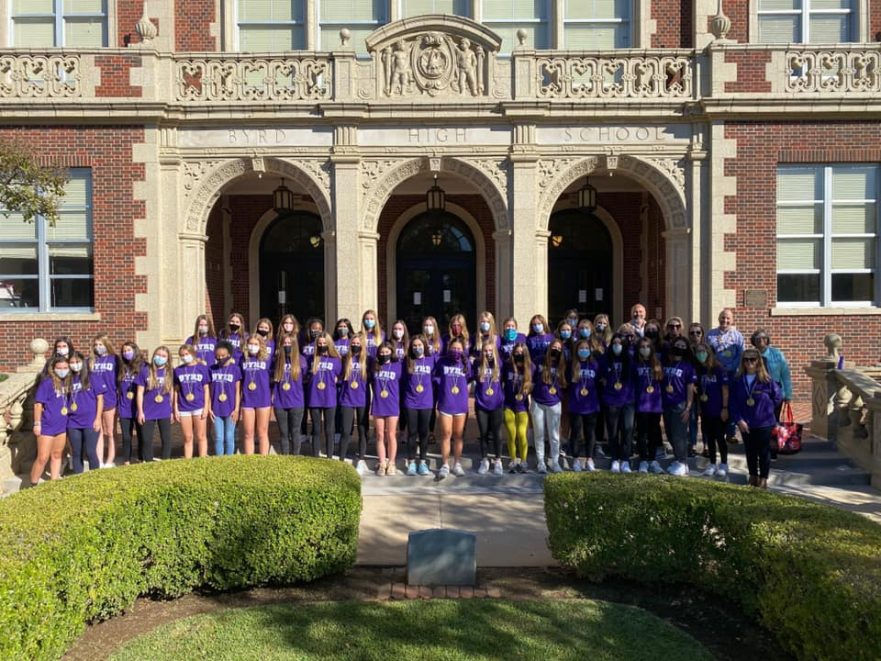 Yellow Jacket Sports
11/19-11/21 Boys and Girls Soccer @ Airline Tournament (dates and times on school calendar)
11/19 Varsity Football vs. Southwood @ Lee Hedges | 7:00 pm
11/20 Girls/Boys Basketball @ Choudrant | 6:00 pm
11/21 Byrd Swimming LHSAA Division 1 State Championship @ YMCA BHP Billiton | Boys' Session @ 9:00 AM / Girls Session @ 3:30 PM
PURCHASE BYRD VARSITY FOOTBALL HOME GAME TICKETS AT LOCAL LEVEL EVENTS
HERE
---
NEW TODAY
After two big wins for Girls Soccer in their preseason scrimmages the Byrd Lady Jackets open up play with a game against Loyola today (Thursday) at 5:00 pm at Messmer Stadium, tomorrow (Friday) at Byrd 6:20 pm, and Saturday back at Messmer Stadium at 3:30 pm.  Come see your Lady Jacket Soccer!
Juniors – It is time to order your class ring for C. E. Byrd High School! Ring order night will be Wednesday, December 2nd from 4:00 until 7:00 pm in the cafeteria. Graduate Sales will have a full display of rings for you to look at to help you pick just the right ring.  Sales representatives will be available to answer any questions you might have and to measure your ring size.  A $70.00 deposit will be required to place your order. GET YOUR RING ORDER PACKET AT THE MAIN OFFICE OR ROOM S-105.  Electronic Class Ring Catalog link is
https://issuu.com/balfour/docs/r100-0420_sy21_jewelry_brochure_vf?fr=sMDBlNjUzODI1
Orders can also be placed at https//www.balfour.com  and an order video is at https://youtu.be/x7nfd7WNUXk Call or Text Graduate Sales 318-549-0082 with any specific questions.
On Track Test Prep is hosting a Boot Camp for the December 12th ACT that will be held this Saturday from 9:00 am until 1:00 pm in the Learning Center.  The cost is $100.  Please call Sherri Moss at 572-5507 to register!
Swimming – The 2020 Louisiana High School State Swim Meet 11/18-11/21/2020 consists of 4 Divisions with a Boys' Meet and a Girls' Meet in each Division contested separately in two sessions per division over four days. While spectators are not allowed at the venue, the event is being broadcast via live stream from Shreveport, LA on the website: www.nfhsnetwork.com Once on the website, type in the words "Louisiana High School Athletic Association" in the Search Bar to be presented with upcoming viewing options for LHSAA sports.  These options include all remaining sessions of the 2020 LHSAA Swim Meet. This website may also be accessed via a link embedded in the www.LHSAA.org website. There is a paid subscription and sign up required to watch the live stream and another programming with price points beginning at $10.99 for a one-month-only subscription.
C.E. Byrd Swimming will compete in Division 1 on Saturday 11/21/2020 with the Boys' Session going live at 9:10 AM CST and the Girls' Session going live at 3:40 PM CST.
CLICK HERE
for a full list of community service opportunities.