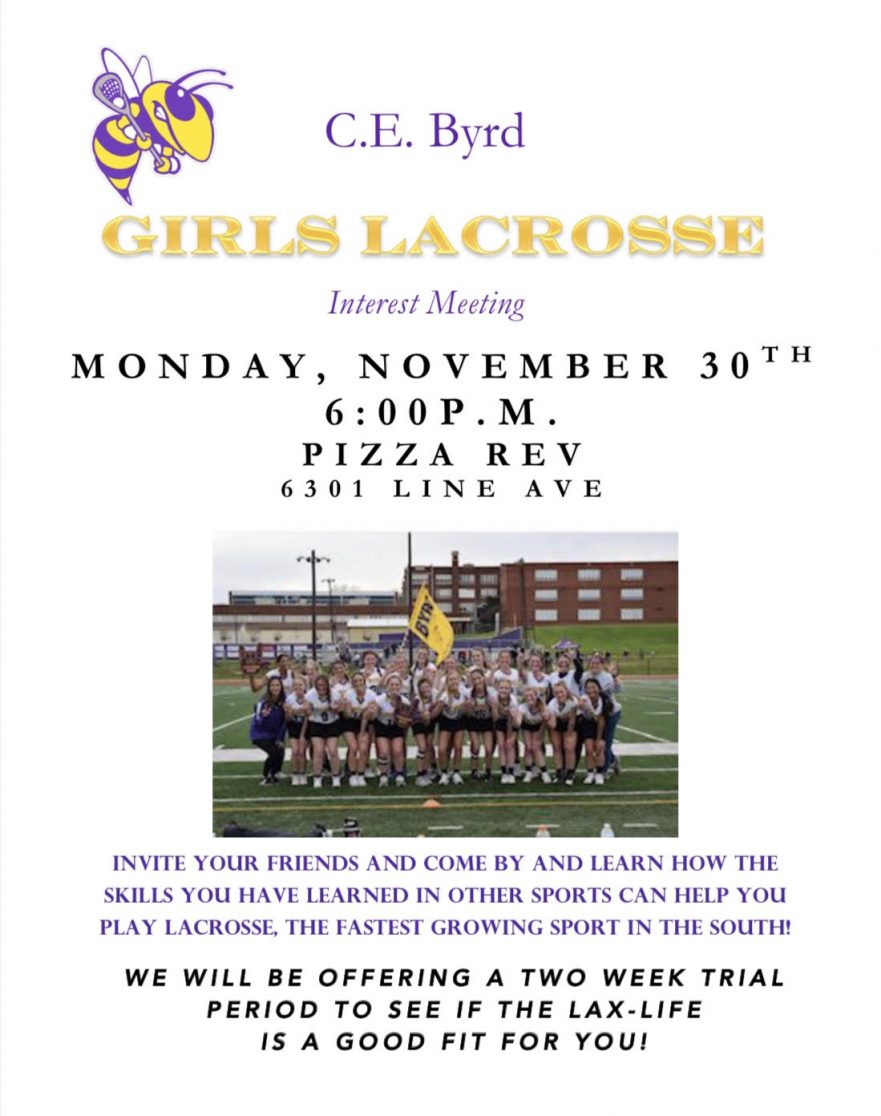 Yellow Jacket Sports (November 16-21)
11/17 XC 5A State Meet @ NSU in Natchitoches
11/19 Varsity Football vs. Southwood @ Lee Hedges | 7:00 pm
11/21 Byrd Swimming LHSAA Division 1 State Championship @ YMCA BHP Billiton | Boys' Session @ 9:00 AM / Girls Session @ 3:30 PM
PURCHASE BYRD VARSITY FOOTBALL HOME GAME TICKETS AT LOCAL LEVEL EVENTS
HERE
---
NEW TODAY
Check out our SPIRIT STORE! This store will be open until Thursday, December 3, 2020, at midnight. All orders will be delivered and disbursed at C.E. Byrd High School by  Friday, December 18, 2020. Please make sure to check the measurement charts for size selection. Please make sure to check colors, sizes, and quantities before completing your order. ALL SALES are FINAL! CLICK HERE for the store.
Support Your Fellow Jackets: Invite your friends! Come out to Pizza Rev at 6 PM on November 30th  and see why Lacrosse is the fastest growing sport in the South!
Juniors and Seniors – If you are interested in taking the ASVAB test on January 21st, please let Mrs. Prothro know by December 8th.
Pictures – Did you miss your class pic or forget to bring your money?  Call Harrington House at 425-5379 to schedule a make-up before TODAY or go to harringtonhouse.net/#!/HOME to order online.  Seniors must go to Harrington's website to select your pic for the Gusher or it will be done for you!
Fleet Reserve Association 2020-2021 Americanism Essay Contest "The Bill of Rights and Me" – This essay is 350 words or less.  The Grand prize is $5000.  These essays are due to Mrs. Prothro by November 27th.  See your English teacher or history teacher for more information.
CLICK HERE
for a full list of community service opportunities.