Jackets in the News: 4-28-22
Congratulations to the C.E. Byrd Boys and Girls Golf Teams for winning the 2022 Regional tournaments. The boys shot a combined -2 and will compete in the State tournament next week in New Iberia. Sydney Moss was the individual medalist for the girls and their team will compete in Lafayette next week. Good Luck on the course Jackets!!!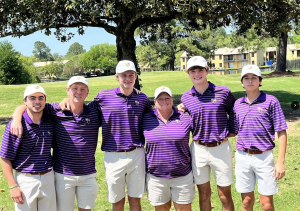 ---
Byrd totally dominated at ArtBreak this year!  We are proud to be one of the most 'decorated' schools with all our awards! Congrats to our accomplished and talented Jackets! HUGE congrats TO OVERALL BEST OF SHOW WINNER OLIVIA BOYKIN!!!!! All the winners will be taking home prizes that range from $500 – $50 – and trophies! The awards ceremony is Sunday, May 15th at 3pm at The Shreveport Convention Center.  (I personally can't wait to hear the Mayor or Superintendent announce "Gangsta Pooch"!  HAHA)  Show all these kiddos some love when you see them, because winning at ArtBreak is a very hard thing to do! STING 'EM!
C.E. Byrd High School
Boykin, Olivia, 12th grade:
Best of Show Award forGangsta Pooch
Erwin, Anne Michele, 12th grade:
Best of Mixed-Media HS Award for Koi Pond In Glass
Hudson, Aaliyah, 12th grade:
Jurors' Choice Award for Masked Message
May, Allison, 12th grade:
Jurors' Choice Award for Winter Dream
Sanders, Shelby, 11th grade:
Jurors' Choice Award for When Worlds Collide
Smith, Jenna, 12th grade:
Best of 3D HS Award for Deer Treasure
Taylor, Alana, 9th grade:
Jurors' Choice Award for Pieces
Wilkins, Turner, 12th grade:
Best of Graphic Design & Photography HS Award for Thriller
****For more information about ArtBreak like dates/open hours/etc. visit https://www.artbreaksb.com/