Jackets in the News: 4-21-22
Congratulations to the following Senior Officers for Key Club 2022-2023: 
President: Brennan Belanger
Vice President: Anna Toms
Vice President: Jack Parsons
Vice President: Philip Brown Snyder
Treasurer: Wyatt Watkins
---
Congratulations to the 2022-2023 Student Council Officers: 
President – James Stratton
Vice President – Ellie Lawrence
Secretary -Wyatt Watkins
Parliamentarian – Aiden Kiihnl
Historian – Caroline Carberry
---
The C.E. Byrd Boys Golf Team dominated the District Tournament on Tuesday. They shot Grant Reagan 67, Duke Bowen 67, James Holtsclaw 69, Brown Snyder 69 and Peyton Johnson 71 for a total of 12 under par!!! Next up is the Regional Tournament at Huntington Park on Wednesday, April 27 at 9 AM. The girls team will also compete at Regionals on Tuesday, April 26 at National Golf Club in Lake Charles. Congratulations and good luck next week Jacket golfers!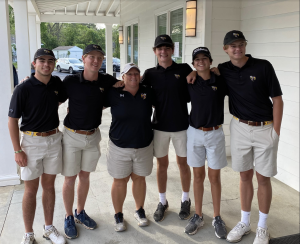 ---
The following students competed on April 9th at LSU in Baton Rouge and placed in the following categories:
Garrett Stroud – 4th in District for Civics
Emilija Majstorovic – 1 st and State Overall Winner in English I
Kate Shaw – 4th in District for English II
Nicholas Carr – 1st in District for Geometry
James Stratton – 3rd in District for U.S. History
Please congratulate these exceptional young people.  We are so proud of everyone who participated. If you would like to see all of the results, you can go to:
https://lhsra.org/wp-content/uploads/2022/04/Literary-Event-Results-Final-4-20-22-1-1.pdf