Yellow Jacket Sports (March 7 – March 13)
3/10  CE Byrd Softball at Byrd vs. Nach Central JV/V | 5/6:30 pm
3/11-12  CE Byrd Softball at Converse • Converse Tourney V
3/11  Boys Lacrosse Varsity vs. Loyola @ CE Byrd | 7:00 pm
3/12  CE Byrd Track Yellow Jacket Relays @ Lee Hedges
---
NEW TODAY
Teacher Appreciation Week 2022 is March 28- April 1. Let's show our thanks and gratitude to our teachers, faculty, and staff for all they do in and out of the classroom. We appreciate all their efforts and want to make them feel extra special. CLICK HERE to make your grade-specific donation to help provide lunch daily and gift cards. You can also scan the QR code below. Thank you!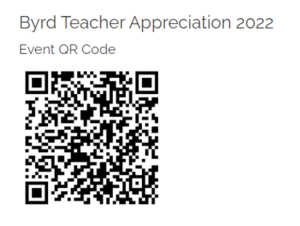 The Caddo Parish 2022-2023 School Calendar is now available.  Click Caddo 22-23 Calendar to access.
Current Juniors – Are you interested in becoming a Top Jacket for the 2022-2023 school year?  A MANDATORY Informational Meeting will be held TOMORROW in the Learning Center. You may choose to attend the meeting before school at 7:40 sharp OR after school at 4:00. See Mrs. Panos or Ms. Springer if you have any questions.
Students – A representative from Jean Simpson Personnel Services will be available outside the cafe during both lunch shifts on TOMORROW. Jean Simpson Personnel Services is a staffing company that assists employers in finding temporary or full-time employees. They are able to assist with event staff, security, catering, clean-up crew, receptionists, data entry clerks, floral design, and more.
Volunteer Opportunity – Mrs. Prothro need 5-10 girls to volunteer at AC Steere on TOMORROW.  This will be for the ones who sign up first.  You may go by her office to sign up or email her at MProthro@caddoschools.org.
11th Grade Girls – If you are interested in attending Girls State of Louisiana, please see Mrs. Prothro. CLICK HERE for info.
Mrs. Prothro needs to see students for the following:
12th Graders – who attended University Elementary School
9th Grade Lyle Leaders who have not already come by to see me about the Easter project
11th Graders – any boy or girl interested in attending Boys' or Girls' State during the summer 2022
9th– 12th Graders – any student who attended AC Steere or has a parent that works there and wants to volunteer this Friday, March 10th at the school.
---
MORE INFORMATION
ACT Testing – On March 15 the juniors and seniors will take the ACT.  On Track Test Prep will hold a boot camp on Saturday for juniors and seniors only from 9:00 – 12:00. Please contact Sherri Moss at 318-572-5507 to register.
May 2022 AP Exams – The deadline is approaching for making changes to AP exam orders.  Check with your AP teacher or see Ms. Eason in the counseling office to verify which exams you ordered.  If you would like to make changes to your exam order, you must email Ms. Eason at peason@caddoschools.org.  Any exams ordered or canceled will result in an additional $40 fee.  The deadline to make changes is 8:30 AM on March 15.
The Allied Health Education and Discovery (AHEAD) Program is a 5-day summer program for Louisiana high school students interested in exploring the health career programs offered at LSU Health Shreveport – School of Allied Health Professions: Medical Laboratory Scientist, Occupational Therapist, Physical Therapist, Physician Assistant, Public Health Professional, Respiratory Therapist, Speech-Language Pathologist. Apply today at www.lsuhs.edu/AHEAD! Applications are due March 15, 2022. For more information, please contact: Madeline Barclay, MPH at madeline.barclay@lsuhs.edu
Students – Academic Key applications are available in Mrs. Strong's room, S102. All forms are due by March 16 .
Gayarre Conference – The 10th Annual Gayarre Conference is coming up next week on Wednesday, March 16 , 2020 at the R.W. Norton Art Gallery in Shreveport, LA. The Gayarre Conference, sponsored by C.E. Byrd High School's Gayarre History Club, provides high school student-historians the opportunity to present their research to their peers, teachers, and community in a traditional academic conference format. This year, 61 students from area high schools will present research essays on the theme, "Patterns in History." Included with the attached invitation is a tentative schedule of presentations and topics. The event is free and open to the public. Visit www.gayarre.org for the schedule of presentations and links to past conferences and publications.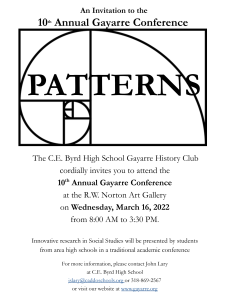 Students – If you are interested, please apply.  We have had quite a few students who have served on this state committee.  See Mrs. Prothro if you have questions. The Louisiana Legislative Youth Advisory Council (LYAC) is now accepting applications for membership from high school students who have an interest in representing the voices of other young people around the state. LYAC is an annually appointed body composed entirely of students that tackle issues affecting the youth of Louisiana. • The purpose of LYAC is to facilitate the communication between youth and the legislature, and to give students a unique opportunity to be involved in the workings of state government. The council studies and addresses a variety of issues of importance to young people such as education, mental health, civic engagement, the environment, and school safety. • Members of the council are selected from a wide pool of statewide applicants who display a strong interest in civic involvement. The thirty-one-member council includes three students representing each of the six congressional districts and the remaining members serve at large. Applicants must be between the ages of fourteen and nineteen and enrolled in a public or private high school, charter school, home school, or GED skills program during the 2022-2023 school year.  • The deadline to apply is March 25, 2022. The application may be accessed at civiced.louisiana.gov and then by clicking on LYAC at the top of the page. All applicants are required to submit two recommendation letters in addition to the eight short essay questions and application form. For additional information, please contact Megan Bella at bellam@legis.la.gov or 225-342-2370.
Mamma Mia! – The full list of performances is as follows: Thursday, March 31, 2022 at 6:00 pm • Friday, April 1, 2022 at 6:00 pm • Saturday, April 2, 2022 at 2:00 pm • Saturday, April 2, 2022 at 6:00 pm • Sunday, April 3, 2022 at 3:00
College Visit – University of Arkansas, 4/11
Juniors who took the PSAT – We will administer the SAT to those juniors who took the PSAT in October. The SAT will be given Wednesday, April 13, at no cost to students. Students must see Mrs. Byrd or Mrs. Lacy in the Counseling Office to pick up the paperwork.
Show your school spirit: SUPPORT BYRD BASEBALL! CLICK HERE: https://www.locallevelevents.com/events/details/18302
Lyle Leaders – If you are interested in attending the Louisiana Youth Seminar, please see Mrs. Prothro.  We have been offered some scholarships, and you will not have to pay the full cost, and it may not cost anything at all.  It is first come, first serve.   Attached is the brochure with information.  Email Mrs. Prothro at MProthro@caddoschools.org or call Mrs. Prothro at 364-5455. CLICK HERE for flyer.
At Home Academy Test Prep and Tutoring Schedules – Click the links below for the 4 schedules available for the February 12 and March ACT tests. Contact info: Beth Woods (318-465-6475) Visit www.athomeacademy.net for schedules and registration. CLICK HERE: March Weekday • CLICK HERE: March Weekend
Student Opportunity – Swim Instructor @ Geaux Swim located at 231 Mt. Zion Road, Shreveport, LA – the newest indoor pool in the city! No previous experience necessary, we train on site!  $14 per hour, flexible schedule. Contact Travis at 318-614-3340 or apply on Facebook job posting! Check us out at www.geauxswim.com
Students – CLICK HERE for 2022/2023 Transfer Information for parents/legal guardians, staff, and the community that reside within the geographic boundaries of Caddo Parish.
Students – The Southern University at Shreveport Soundwave Marching Band is now accepting students who want to be a part of the band program. If you have any band students or know of any former band students who may be interested, please contact Dr. Albert L. Jackson, Director of the SUSLA Band at 318-670-9381 or aljackson@susla.edu. Scholarships are available.
Please click and view the following link: https://www.susla.edu/form/542
Upcoming Deadlines:
Contest – CADA: Essay Contest for all high school students. Topic: Living my Best Life Things I Do to Deal with Stress. Deadline April 5, 2022. CLICK HERE for rules and info.
Volunteer Opportunities:
Astra Club – Mrs. Prothro needs volunteers to work at Reruns Are Fun located in the old Waddell's Frame Shop on 9260 Ellerbe Road.  The dates and times are in her office.  Please see Mrs. Prothro or email her at mprothro@caddoschools.org
Service Hour Opportunities – Softball is about to start its season and they have a ton of home games this year.  They are hoping to get some student volunteers to help run the concession stand this year.  Volunteers will just need them to help take orders and serve.  Click the link to sign up. https://www.signupgenius.com/go/10C0F4EACAC2CABF4C16-2022
Volunteer Opportunity – IDEAS Day is a completely free event put on every spring by LSUHS-Shreveport Science Matters Interest Group for the kids in the community to learn about various fields in STEM. There will be numerous demonstrations set up that are sponsored by departments and organizations on and off campus, hopefully giving our local kids a wide exposure to the world of STEM. Last year IDEAS Day was held virtually due to Covid-19, and we are so excited to have it this year back in person! This year IDEAS Day will be held outside at LSU Shreveport on March 26, 2022 from 9am-12pm. We will need volunteers for set-up, check-in, working the booths, traffic flow, and clean-up. CLICK HERE for the volunteer link to sign up for a shift or the whole event.
Seniors – Did you attend University Elementary?  If so, please see Mrs. Prothro.  They have asked you to come to their 5th-grade celebration on April 22.  You will be excused from school.
CLICK HERE for a full list of community service opportunities.