Yellow Jacket Sports (February 14 – February 20)
2/18  Byrd Baseball F/JV at Calvary (Jamboree)
2/19  Byrd Baseball Varsity vs Evangel @ CE Byrd | 1:15 pm
2/19  Byrd Baseball JV vs Calvary @ CE Byrd | 3:30 pm
---
NEW TODAY
Congratulations to the following winners in the Caddo Security Department poster contests. Overall winners: Caroline Carberry and Sidney Moss tied for first; Internet Safety: Caroline Carberry first, Catherine Briery third; Red Ribbon Week: Caroline Carberry second; Character Education: Chloe Miller and Sydney Moss tied for first, Catherine Briery second; Mental Health Awareness: Ally Geyer first, Catherine Briery second, Caroline Carberry third; Suicide Prevention Catherine Briery and Ally Geyer tied for first, Caroline Carberry second; and Dr. White's Outstanding Art Awards: Chloe Miller – Character Education and Caroline Carberry – Internet Safety.
Dress Up Days for Black History Month (February 14 through 18): Thursday – Natural 90's – your best natural self inspired by 90's influencers; Friday – African wear with traditional African patterns and outfits.
Juniors – Graduate Sales will be here in the auditorium during both lunch shifts TODAY to take ring orders.  A $80 deposit is required to order the ring and they will accept cash or credit card.
Literary Rally meeting is this afternoon.
Seniors – If you did not get a senior picture taken over the summer, we will have Harrington House here FRIDAY from 7:30 am until 9:00 am to take a cap and gown picture.  Harrington House will have the cap and gown available for you to use.  Come to the Learning Center if you wish to have a picture taken.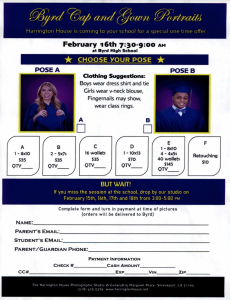 Buzz Fest auditions will be held TOMORROW from 4:00-6:00. Please sign up with Mrs. Carberry in Room 202.
Students – Graduate Sales will be here TOMORROW during both lunch shifts to take Junior ring orders.  They will be in the back hallway by the cafe.  A deposit of $80.00 by cash or credit card is required to place an order.
Sophomores, Juniors, and Seniors – The eligibility list for new National Honor Society members has been placed outside Mrs. Strong's room (S102) and Mrs. Waxham's room (S214). NHS forms must be turned in by Monday, February 28, in order to be inducted! NO EXCEPTIONS! 
Students – Find your heart around school, snap a picture with it, send to byrdstudentcouncil@gmail.com, then bring your heart to Mrs. Carberry in room 202 for a prize! Happy Valentine's Day!
College Visit – Centenary 2/17
College Visit – Navy 2/18
11th Grade Girls – If you are interested in attending Girls State of Louisiana, please see Mrs. Prothro. CLICK HERE for info.
Senior Parents – LSUS will be hosting a Parent Night on February 24 from 6 pm to 8 pm.  Parents will get the opportunity to enjoy a mix and mingle opportunity with hors-d'œuvre and learn about student services offered to LSUS students. Presentations will be given from LSUS Financial Aid, Scholarships, and Campus Federal Credit Union. Parents can register here: https://visit.lsus.edu/event/lsus.events.223915  Check-in will start at 6:00 pm in the University Center.
Varsity Cheer Tryout Mandatory Interest Meeting will be on Monday, February 28, at 5:30 in the Learning Center. Student and parent must attend!!!
Contest – CADA: Essay Contest for all high school students. Topic: Living my Best Life Things I Do to Deal with Stress. Deadline April 5, 2022. CLICK HERE for rules and info.
---
MORE INFORMATION
Lyle Leaders Application for Freshmen – Deadline February 18. CLICK HERE for Application
Students 9-12th grades – Do you have 100 or more volunteer hours from March, 2021 to March 1, 2022?  If so, you are eligible for the Presidential Volunteer Service Award which is a national award to recognize people who are committed to community service to make our world a better place.  Please bring your volunteer sheets with your total number of volunteer hours to Mrs. Prothro or email them to her at MProthro@caddoschools.org.  If you have any questions, please call (364-5455) or email Mrs. Prothro.  Any community service through school, nonprofit organizations and church activities can be counted toward your total number of community service hours.  Attached is a volunteer log sheet if you would like to use it; however, you do not have to use this one.  I will accept any log sheets that has the activities and hours listed.  The deadline is March 1. CLICK HERE for Volunteer Log.
Sophomores who took the PSAT – The PSAT 10 will be administered on Wednesday, March 2. Only students who previously took the PSAT in October will test on this date. Testing will begin promptly at 8:30 in the Learning Center. You should receive information from your English teacher. If you do not receive it, please see Mrs. Byrd in the Counseling Office.
College Visit – LSUS 3/7
ACT Testing – On March 8 the freshmen will take the Pre-ACT and the sophomores will take the ACT.  On March 15 the juniors and seniors will take the ACT.  On Track Test Prep will hold a clinic on March 5, 12:30-3:30 in the Learning Center.  There will be another clinic on March 12th for juniors and seniors only from 9:00 – 12:00.
Mamma Mia! – The full list of performances is as follows: Thursday, March 31, 2022 at 6:00 pm • Friday, April 1, 2022 at 6:00 pm • Saturday, April 2, 2022 at 2:00 pm • Saturday, April 2, 2022 at 6:00 pm • Sunday, April 3, 2022 at 3:00
Juniors who took the PSAT – We will administer the SAT to those juniors who took the PSAT in October. The SAT will be given Wednesday, April 13, at no cost to students. Students must see Mrs. Byrd or Mrs. Lacy in the Counseling Office to pick up the paperwork.
The Allied Health Education and Discovery (AHEAD) Program is a 5-day summer program for Louisiana high school students interested in exploring the health career programs offered at LSU Health Shreveport – School of Allied Health Professions: Medical Laboratory Scientist, Occupational Therapist, Physical Therapist, Physician Assistant, Public Health Professional, Respiratory Therapist, Speech-Language Pathologist. Apply today at www.lsuhs.edu/AHEAD! Applications are due March 15, 2022. For more information, please contact: Madeline Barclay, MPH at madeline.barclay@lsuhs.edu
ULM HOUSING APPLICATION​ — Goes live on January 1st. Priority deadline is March 31st but students can still continue to apply: https://www.ulm.edu/reslife/fall-application.html 
Show your school spirit: SUPPORT BYRD BASEBALL! CLICK HERE: https://www.locallevelevents.com/events/details/18302
Students – The Louisiana Lions Camp is currently recruiting high school students, ages 16+ to fill summer staff positions. Information is available in the counseling office.
Lyle Leaders – If you are interested in attending the Louisiana Youth Seminar, please see Mrs. Prothro.  We have been offered some scholarships, and you will not have to pay the full cost, and it may not cost anything at all.  It is first come, first serve.   Attached is the brochure with information.  Email Mrs. Prothro at MProthro@caddoschools.org or call Mrs. Prothro at 364-5455. CLICK HERE for flyer.
Seniors – If you were interested in applying for LSU Baton Rouge, but did not complete the application due to difficulty or cost, please let Mrs. Byrd know as soon as possible. The LSU admissions representative will come on campus to assist with this process.
Students and Parents – If you are interested in the C. E. Byrd Tennis Team, please email Stevie Schmidt at C.E.ByrdTennis@gmail.com . Practices will begin soon.
At Home Academy Test Prep and Tutoring Schedules – Click the links below for the 4 schedules available for the February 12 and March ACT tests. Contact info: Beth Woods (318-465-6475) Visit www.athomeacademy.net for schedules and registration.
CLICK HERE: February Weekday • CLICK HERE: February Weekend • CLICK HERE: March Weekday • CLICK HERE: March Weekend
Summer Job Opportunity – Splash Kingdom Oasis in Shreveport is gearing up for another fun and exciting summer season. We are currently looking for hardworking individuals to join our team! We have several different opportunities for the 2022 summer season. We are hiring starting at $9-$12 an hour! Positions available include, dispatchers, guest service, food service, security, and lifeguard! (Security position 21+) All applications are online at www.splashkingdomwaterpark.com
Upcoming Deadlines:
The Future of STEM Scholars Initiative (FOSSI) is a $40,000 scholarship program for high school students who plan to study preferred STEM degrees (Science, Technology, Engineering, or Math) at Historically Black Colleges and Universities (HBCUs). The American Chemistry Council has partnered alongside HBCU Week Foundation, American Institute of Chemical Engineers (AIChE), and The Chemours Company to make this impactful program possible. In addition to the scholarship, students will gain leadership development, mentoring and internship opportunities with program sponsors, as well as access to student networking events. They are accepting applications for the second year of the program through TOMORROW. Applications are available at https://futureofstemscholars.org/fossi/apply
Student Job Opportunity – Job Fair Summefield Estates Retirement Community is currently looking for part time servers.  They are a senior living retirement community that serves seniors ages 55 years and up. If by chance a student is unable to attend the job fair, they may go directly to atriacareers.com and apply online. Part Time Server Position • Monday – Friday Dinner Service Only 5:00 pm – 7:30 pm • Saturday – Sunday Breakfast Service 8:00 am -9:30 am, Lunch Service 12:00 pm – 2:00 pm, Dinner Service 5:00 pm – 7:30 pm
Volunteer Opportunities:
Seniors – Did you attend University Elementary?  If so, please see Mrs. Prothro.  They have asked you to come to their 5th-grade celebration on April 22.  You will be excused from school.
Service Hour Opportunities – Softball is about to start its season and they have a ton of home games this year.  They are hoping to get some student volunteers to help run the concession stand this year.  Volunteers will just need them to help take orders and serve.  Click the link to sign up. https://www.signupgenius.com/go/10C0F4EACAC2CABF4C16-2022
Volunteer Opportunity – 3 weeks out until our Give Back Geaux Pack event benefiting Louisiana's most vulnerable children. Do your part and come help pack 3000 Geaux Bags. Sign up HERE.
CLICK HERE for a full list of community service opportunities.