Yellow Jacket Sports (January 7 – February 13)
.
---
NEW TODAY
February 7th -11th is National School Counseling Week.  This week we salute our dynamic counselors: Amanda Byrd, Penny Eason, Tamiko Lacy and Liz Orenbaun.  We appreciate you for ALL that you do for the students and families of Byrd High.  You are truly the unsung heroes of this City!
Girl Up will meet in the Dance Studio TODAY for EIP.
Youth and Government – Please come by S306 and pick up your club shirt ASAP. Our next debate will be TOMORROW at 7:40 AM in the Learning Center!
College Visit – Army TOMORROW
Student Council Officer Election Packets are available in Mrs. Carberry's room 202. Intent to Run forms are due by FRIDAY. Student Council Week will be celebrated April 4th-8th and elections will take place the week of April 11th on Canvas. Intent to Run forms are only for students wanting to run for office; member-at-large applications will be distributed later.
Buzz Fest auditions will be help on February 15 and 17 from 4:00-6:00. Please sign up with Mrs. Carberry in Room 202.
Dress Up Days for Black History Month (February 14 through 18: Monday  – HBCU Day – wear their colors or paraphernalia; Tuesday – Building my Future by wearing professional attire; Wednesday – Club t-shirt day to promote our club activities and program; Thursday – Natural 90's – your best natural self inspired by 90's influencers; Friday – African wear with traditional African patterns and outfits.
---
MORE INFORMATION
At Home Academy Test Prep and Tutoring Schedules – Click the links below for the 4 schedules available for the February 12 and March ACT tests. Contact info: Beth Woods (318-465-6475) Visit www.athomeacademy.net for schedules and registration.
CLICK HERE: February Weekday • CLICK HERE: February Weekend • CLICK HERE: March Weekday • CLICK HERE: March Weekend
Students – Buzz Bash is finally back after a year hiatus due to Covid. Baseball's annual fundraising auction & buffet dinner will be held at East Ridge on February 11 from 7 pm-11 pm. It's always a fun night with this year's theme being "Grand Slam Fiesta". We will have over 300 items being auctioned off by both silent and live auctions. If you're interested in a ticket please email me (gkwilliams@caddoschools.org)
Buzz Fest auditions will be help on February 15 and 17 from 4:00-6:00. Please sign up with Mrs. Carberry in Room 202.
Seniors – If you did not get a senior picture taken over the summer, we will have Harrington House here on Wednesday, February 16, from 7:30 am until 9:00 am to take a cap and gown picture.  Harrington House will have the cap and gown available for you to use.  Come to the Learning Center if you wish to have a picture taken.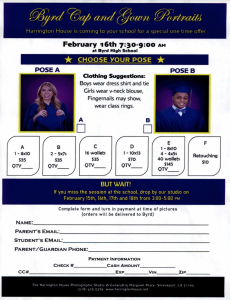 Lyle Leaders Application for Freshmen – Deadline February 18. CLICK HERE for Application
Students 9-12th grades – Do you have 100 or more volunteer hours from March, 2021 to March 1, 2022?  If so, you are eligible for the Presidential Volunteer Service Award which is a national award to recognize people who are committed to community service to make our world a better place.  Please bring your volunteer sheets with your total number of volunteer hours to Mrs. Prothro or email them to her at MProthro@caddoschools.org.  If you have any questions, please call (364-5455) or email Mrs. Prothro.  Any community service through school, nonprofit organizations and church activities can be counted toward your total number of community service hours.  Attached is a volunteer log sheet if you would like to use it; however, you do not have to use this one.  I will accept any log sheets that has the activities and hours listed.  The deadline is March 1. CLICK HERE for Volunteer Log.
Sophomores who took the PSAT – The PSAT 10 will be administered on Wednesday, March 2. Only students who previously took the PSAT in October will test on this date. Testing will begin promptly at 8:30 in the Learning Center. You should receive information from your English teacher. If you do not receive it, please see Mrs. Byrd in the Counseling Office.
College Visit – LSUS 3/7
ACT Testing – On March 8 the freshmen will take the Pre-ACT and the sophomores will take the ACT.  On March 15 the juniors and seniors will take the ACT.  On Track Test Prep will hold a clinic on March 5, 12:30-3:30 in the Learning Center.  There will be another clinic on March 12th for juniors and seniors only from 9:00 – 12:00.
Mamma Mia! – The full list of performances is as follows: Thursday, March 31, 2022 at 6:00 pm • Friday, April 1, 2022 at 6:00 pm • Saturday, April 2, 2022 at 2:00 pm • Saturday, April 2, 2022 at 6:00 pm • Sunday, April 3, 2022 at 3:00
Juniors who took the PSAT – We will administer the SAT to those juniors who took the PSAT in October. The SAT will be given Wednesday, April 13, at no cost to students. Students must see Mrs. Byrd or Mrs. Lacy in the Counseling Office to pick up the paperwork.
Juniors and Seniors – Alpha Kappa Alpha Sorority is welcoming high school juniors and seniors to be a part of #CAP. The organization seeks to demystify the College Admissions Process for students. Virtual instruction will provide a hands-on approach that includes all of the steps from researching various colleges to completing the application process. Sessions are held the 1st Monday of each month via Zoom. Areas of Emphasis include ACT/SAT, Essay writing, HBCU information, Scholarships, Life skills & More. Requests to join should be submitted to akasro.cap@gmail.com
The Allied Health Education and Discovery (AHEAD) Program is a 5-day summer program for Louisiana high school students interested in exploring the health career programs offered at LSU Health Shreveport – School of Allied Health Professions: Medical Laboratory Scientist, Occupational Therapist, Physical Therapist, Physician Assistant, Public Health Professional, Respiratory Therapist, Speech-Language Pathologist. Apply today at www.lsuhs.edu/AHEAD! Applications are due March 15, 2022. For more information, please contact: Madeline Barclay, MPH at madeline.barclay@lsuhs.edu
ULM HOUSING APPLICATION​ — Goes live on January 1st. Priority deadline is March 31st but students can still continue to apply: https://www.ulm.edu/reslife/fall-application.html 
Show your school spirit: SUPPORT BYRD BASEBALL! CLICK HERE: https://www.locallevelevents.com/events/details/18302
Students – The Louisiana Lions Camp is currently recruiting high school students, ages 16+ to fill summer staff positions. Information is available in the counseling office.
Lyle Leaders – If you are interested in attending the Louisiana Youth Seminar, please see Mrs. Prothro.  We have been offered some scholarships, and you will not have to pay the full cost, and it may not cost anything at all.  It is first come, first serve.   Attached is the brochure with information.  Email Mrs. Prothro at MProthro@caddoschools.org or call Mrs. Prothro at 364-5455. CLICK HERE for flyer.
Upcoming Deadlines:
Juniors and Seniors – The Virginia K. Shehee Most Influential Young Woman award will be given to a female who is a high school junior or senior whose leadership, poise, and determination are demonstrated through meaningful acts of philanthropy for her fellow students or her community. The credentials for recipients include young women who demonstrate influence in their school and/or community, have a solid reputation based on their experience, leadership and integrity and are enrolled as a junior or senior student in Northwest Louisiana. Nominees may not hold a paid position with a non-profit organization or receive payment for services they perform for the entity.  Nominations will be accepted through February 10. To review criteria and nominate someone, please visit https://www.laholyangels.org/events/most-influential-women/
The Arminda Riser/CSCA scholarship is available in the Counseling Office, or the Class of 2022 Canvas page. This is a $500 scholarship available to students who plan to attend LSUS and major in education. Students must have a 2.5 grade point average. Applications are due February 11.
The Future of STEM Scholars Initiative (FOSSI) is a $40,000 scholarship program for high school students who plan to study preferred STEM degrees (Science, Technology, Engineering, or Math) at Historically Black Colleges and Universities (HBCUs). The American Chemistry Council has partnered alongside HBCU Week Foundation, American Institute of Chemical Engineers (AIChE), and The Chemours Company to make this impactful program possible. In addition to the scholarship, students will gain leadership development, mentoring and internship opportunities with program sponsors, as well as access to student networking events. They are accepting applications for the second year of the program through February 15. Applications are available at https://futureofstemscholars.org/fossi/apply
Volunteer Opportunities:
Seniors – Did you attend University Elementary?  If so, please see Mrs. Prothro.  They have asked you to come to their 5th-grade celebration on April 22.  You will be excused from school.
Service Hour Opportunities – Softball is about to start its season and they have a ton of home games this year.  They are hoping to get some student volunteers to help run the concession stand this year.  Volunteers will just need them to help take orders and serve.  Click the link to sign up. https://www.signupgenius.com/go/10C0F4EACAC2CABF4C16-2022
CLICK HERE for a full list of community service opportunities.