Yellow Jacket Sports (January 31 – February 6)
.
---
NEW TODAY
Students – Yearbooks are on sale through the end of TODAY for $65 these can be purchased from a Gusher staff member, payforit.net, or in room 115 with Ms. Saulsbury. These are the students who HAVE purchased a yearbook. CLICK HERE for list.
College Visit – LSUS February 1st
---
MORE INFORMATION
Youth and Government – Please come by S306 and pick up your club shirt ASAP. Our next debate will be Wednesday, February 9, at 7:40 AM in the learning center!
ULM IS OFFERING FREE APPLICATIONS THROUGH JANUARY!! — All students can use the code "HAWKIDAY" to apply for free from now until the end of January.
At Home Academy Test Prep and Tutoring Schedules – Click the links below for the 4 schedules available for the February 12 and March ACT tests. Contact info: Beth Woods (318-465-6475) Visit www.athomeacademy.net for schedules and registration.
CLICK HERE: February Weekday • CLICK HERE: February Weekend • CLICK HERE: March Weekday • CLICK HERE: March Weekend
Students – LSU School of Veterinary Medicine Open House Postponed due to Covid 19 Rise After much consideration, for the safety and wellbeing of our LSU Vet Med family and the community, we have decided to postpone Open House 2022, which was originally scheduled for February 5, 2022. Even though we cannot gather together, we would still like to show you the amazing things we do here at LSU Vet Med. In February, we will showcase messages and videos of past Open House projects on our social media platforms, which are linked below. We wanted to host the event in Fall 2022, but in order to have our normal, fun, and exciting Open House, the best option is to continue it in the beginning of 2023. We hope everyone is staying healthy during this time and we cannot wait to see you all again when it is safe to do so. Please be on the lookout for future Open House plans. Please feel free to contact me if you have any questions. Alexa Boudreaux • Dean's Coordinator • aboudreaux@lsu.edu • (225) 578-9955 • https://www.lsu.edu/vetmed/events/open_house/index.php
Students – Buzz Bash is finally back after a year hiatus due to Covid. Baseball's annual fundraising auction & buffet dinner will be held at East Ridge on February 11 from 7 pm-11 pm. It's always a fun night with this year's theme being "Grand Slam Fiesta". We will have over 300 items being auctioned off by both silent and live auctions. If you're interested in a ticket please email me (gkwilliams@caddoschools.org)
Seniors – If you did not get a senior picture taken over the summer, we will have Harrington House here on Wednesday, February 16, from 7:30 am until 9:00 am to take a cap and gown picture.  Harrington House will have the cap and gown available for you to use.  Come to the Learning Center if you wish to have a picture taken.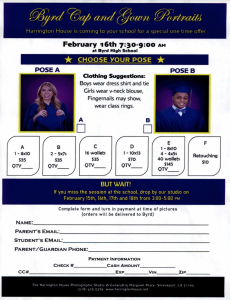 Students – Any student interested in a medical career and would like to attend the Junior Achievement Inspire Mentor workshop and luncheon on Thursday, February 17, needs to come by Ms. Waters' room S112 to get a permission form.  It will be due back to Ms. Waters by Thursday.  Space is limited, so first come, first serve!
NEW PRIORITY DEADLINE — usually, the priority deadline for scholarship eligibility is January 31st, but this year they are offering scholarships to students who apply through FEBRUARY 28! Any student with a qualifying ACT score and GPA will receive a scholarship if their application is submitted before 2/28. (Admissions requirements here: https://www.ulm.edu/admissions/highschool.html) 
Sophomores who took the PSAT – The PSAT 10 will be administered on Wednesday, March 2. Only students who previously took the PSAT in October will test on this date. Testing will begin promptly at 8:30 in the Learning Center. You should receive information from your English teacher. If you do not receive it, please see Mrs. Byrd in the Counseling Office.
ACT Testing – On March 8 the freshmen will take the Pre-ACT and the sophomores will take the ACT.  On March 15 the juniors and seniors will take the ACT.  On Track Test Prep will hold a clinic on March 5, 12:30-3:30 in the Learning Center.  There will be another clinic on March 12th for juniors and seniors only from 9:00 – 12:00.
Juniors who took the PSAT – We will administer the SAT to those juniors who took the PSAT in October. The SAT will be given Wednesday, April 13, at no cost to students. Students must see Mrs. Byrd or Mrs. Lacy in the Counseling Office to pick up the paperwork.
Juniors and Seniors – Alpha Kappa Alpha Sorority is welcoming high school juniors and seniors to be a part of #CAP. The organization seeks to demystify the College Admissions Process for students. Virtual instruction will provide a hands-on approach that includes all of the steps from researching various colleges to completing the application process. Sessions are held the 1st Monday of each month via Zoom. Areas of Emphasis include ACT/SAT, Essay writing, HBCU information, Scholarships, Life skills & More. Requests to join should be submitted to akasro.cap@gmail.com
The Allied Health Education and Discovery (AHEAD) Program is a 5-day summer program for Louisiana high school students interested in exploring the health career programs offered at LSU Health Shreveport – School of Allied Health Professions: Medical Laboratory Scientist, Occupational Therapist, Physical Therapist, Physician Assistant, Public Health Professional, Respiratory Therapist, Speech-Language Pathologist. Apply today at www.lsuhs.edu/AHEAD! Applications are due March 15, 2022. For more information, please contact: Madeline Barclay, MPH at madeline.barclay@lsuhs.edu
ACT & SCHOLARSHIPS – ULM is also accepting ACT scores through the April ACT date for scholarship improvement. They use super scores!! Again, any student eligible for scholarships WILL receive them. Please view scholarship grid here: https://www.ulm.edu/scholarships/freshmen.html (any superscore through April that bumps them into a new category will be honored… they'll simply get a new scholarship reservation form) 
ULM HOUSING APPLICATION​ — Goes live on January 1st. Priority deadline is March 31st but students can still continue to apply: https://www.ulm.edu/reslife/fall-application.html 
Show your school spirit: SUPPORT BYRD BASEBALL! CLICK HERE: https://www.locallevelevents.com/events/details/18302
Upcoming Deadlines:
AFL-CIO Scholarship – Deadline: January 28, 2022
AFCEA International Scholarship – Deadline: February 1, 2022
KPMG Future Leaders Program Scholarship – Deadline: February 1
Volunteer Opportunities:
.
CLICK HERE for a full list of community service opportunities.