Yellow Jacket Sports (May 17 – May 23)
---
NEW TODAY
Click the link for the last KByrd episode of the year! https://www.youtube.com/watch?v=iaeZKFWmNas
Congratulations to our new Youth and Government officers for 2021-2022: President – Chloe Miller, Vice President – Jack Eli Ford, Historians – Wyatt Watkins and Caroline Hannigan, Public Relations – Jack Parsons and James Stratton, Debate Leaders – Jackson Ballew and Michael Burford. Please come by S306 this week.
Congratulations to the 2021-22 Z-Club Officers – Grayson Noles, President, Kelly Chu, Vice President, Lily Moloney, Historian, Skylar Burke, Service Chairman, Lola Carlisle, Social Chair, Kate Schwab, Treasurer, Lizzie Whitton, Zonta Representative, Haley Crager, Senior Representative, Elizabeth Davis, Senior Representative, Anna Marie Kemper, Junior Representative, and Hannah Pearce, Junior Representative.
Seniors and senior parents – Important graduation information has been posted to the Class of 2021 Canvas page in the Graduation Modules. There is an information sheet, as well as a graduation video that explains what to expect at graduation. Please review this information. Tickets for graduation are now available.
Juniors – If you ordered your class ring from Balfour with Graduate Sales and you did NOT sign up to participate in the ring ceremony, you can pick up your ring TODAY in the main office.  You will need a picture ID to get your ring.
Seniors – Please check the Class of 2021 names list in your English class, or the Class of 2021 Canvas page. You need to verify that your name is spelled correctly for the graduation program as well as your diploma. If there are any errors, please notify Mrs. Byrd at asbyrd@caddoschools.org.
CLICK HERE for the Registration Form for the Caddo High School Credit Recovery "Virtual" Summer School – Session 1: June 7 – June 30 (15 Days of Instruction) The online registration is from June 1-4, 2021. Complete this form between June 1 – 4, 2021 to register for summer school Session 1 (June 7 – June 30, 2021). Instruction will take place through Edgenuity/Canvas Classroom with teacher support available Monday – Thursday from 8:00 am – 2:00 pm. There is no cost for the 1/2 credit course. Upon principal approval, you will receive an email/phone call with next steps for beginning the class.
Attention incoming freshmen: Pep squad fitting dates are Monday, May 24 from 4-5:30 pm and Wednesday, June 9 from 12-1:30 pm. All fittings will be in the learning center on the kings highway side of the school. You only have to attend one fitting. The price of pep squad this year will be approximately $550. Please contact Coach Duncan for any more information. Mduncan@caddoschools.org
CLICK HERE for information regarding C.E. Byrd's Writing Camp.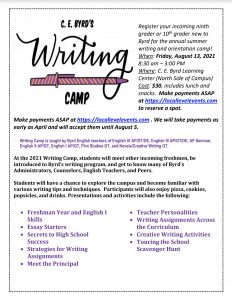 CLICK HERE for application and information on the Merit Award from Ternium.
Upcoming Deadlines:
Each year the Louisiana Solid Waste Association offers scholarships to 3 high school seniors in memory of some very special people in the Environmental Industry.  The application is available at www.lswa.us (Links to an external site.) (HOMEPAGE- click on scholarships, once on scholarships page click on download the scholarship application).  The deadline to apply is TODAY and the recipients will be notified by July 1. All recipients will be recognized at our Fall Conference on September 16, 2021 in Lafayette, Louisiana.
The Louisiana Folklife Center at Northwestern State University is sponsoring the NSU Louisiana High School Essay Contest. This is open to students in grades 9-12. Students will address the prompt "Louisiana Heroes". Winners will be awarded a $1600 scholarship to NSU. The deadline is June 1. Additional information is available in the counseling office or at https://louisianafolklife.nsula.edu.
Volunteer Opportunities:
CLICK HERE
for a full list of community service opportunities.