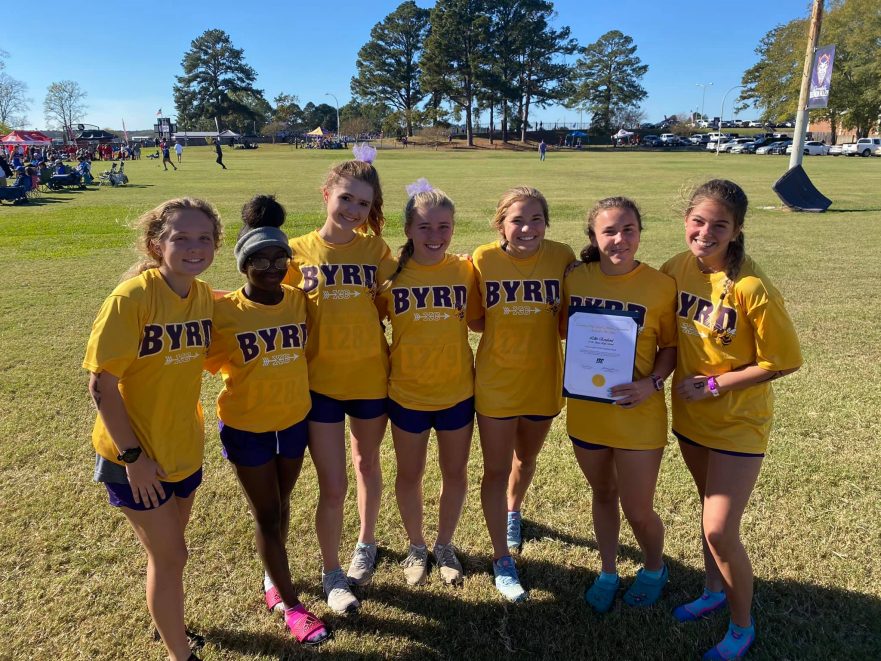 Yellow Jacket Sports
11/18 Boys Varsity Soccer vs. Loyola @ Lee Hedges | 6:00 pm
11/19-11/21 Boys and Girls Soccer @ Airline Tournament (dates and times on school calendar)
11/19 Varsity Football vs. Southwood @ Lee Hedges | 7:00 pm
11/20 Girls/Boys Basketball @ Choudrant | 6:00 pm
11/21 Byrd Swimming LHSAA Division 1 State Championship @ YMCA BHP Billiton | Boys' Session @ 9:00 AM / Girls Session @ 3:30 PM
PURCHASE BYRD VARSITY FOOTBALL HOME GAME TICKETS AT LOCAL LEVEL EVENTS
HERE
---
NEW TODAY
Check out our SPIRIT STORE! This store will be open until Thursday, December 3, 2020, at midnight. All orders will be delivered and disbursed at C.E. Byrd High School by  Friday, December 18, 2020. Please make sure to check the measurement charts for size selection. Please make sure to check colors, sizes, and quantities before completing your order. ALL SALES are FINAL! CLICK HERE for the store.
Congratulations to the C.E. Byrd Lady Jackets Cross Country team on their 6th place finish at the LHSAA State Cross Country Meet in Natchitoches earlier today! It's the highest finish in program history! The Lady Jackets were led by seniors Bryn Peters, Lillie England, and Miranda Milner. Great job, Jackets!
9th Graders – If you are interested in applying to be a Lyle Leader, please complete the application, and return to Mrs. Prothro by December 16th.  Lyle Leaders is an organization unique to Byrd that participates in leadership activities and service activities from 9th-12th grades.  The organization was begun by one of our Hall of Fame Alumni Association members with a $100,000 donation to the school.
Indoor Track Practice will start on December 14th. You may contact Coach Plaza at jep1932@bellsouth.net if you are interested in joining our awesome team!
Wrestling – There are still plenty of spots left for the wrestling team. Football team wrestlers will be late coming in so it gives new wrestlers a huge advantage to learn early. An opportunity to start on a varsity team!!! We need all sizes and ages. Coach Yawn  markyawn@comcast.net 318-426-3569.
CLICK HERE
for a full list of community service opportunities.