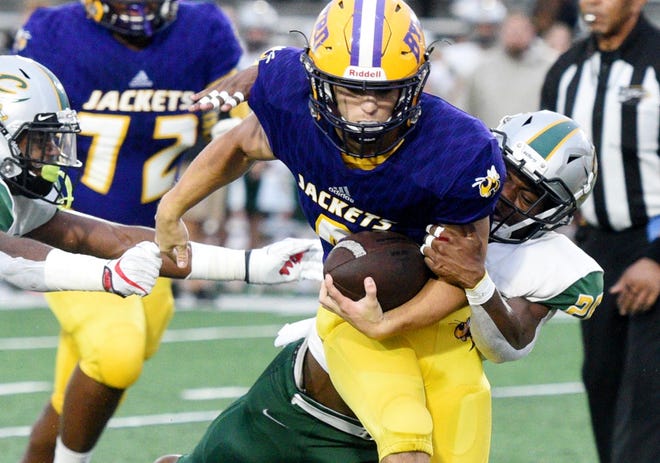 Byrd running back earns Player of the Week (6)
Byrd, as usual, boasts a bevy of talent at the running back position in 2020. However, William Berry seems to make a name for himself just about every weekend. That was the case in the sixth week of action.
Although he carried the ball just nine times, Berry piled up 135 rushing yards and four touchdowns in a romp over Airline.
The effort led the 5-foot-10, 177-pounder to The Times' Fans' Choice High School Football Player of the Week (6) honor.
The senior garnered 43 percent of more than 42,000 votes cast for the 15 nominees on the Friday Night Live app. St. Mary's running back Graeme Fidelak finished as the runner-up with 33 percent of the votes.
As the top two finishers, Berry and Fidelak automatically qualify for the season-end Player of the Year race.
Voting is exclusive to The Times' Friday Night Live app, a free must-have complement to the high school football season.
The rest of the Week 6 ballot included: Austin King, Minden; Charzay Morris, North Caddo; DeKeldrick Thomas, Mansfield; Jake St. Andre, Haughton; J'rell Joseph, Huntington; Kedrick Grider, Haynesville; Kelvin Kinney, North DeSoto; Markecion Carr, Arcadia; Ryder Hogan, Red River; Takeviuntae Kidd, Homer; Terrence Cook, Northwood; Trenton DeFatta, Parkway; Tyreke Williams, North Webster.
The free app, available for Android and Apple phones, will feature live scoring from every game involving any of 39 area high school football teams. Each represented school boasts a team page with full schedules.
Prep Fantasy Football is an interactive component to Friday Night Live. The nation's only source for true high school fantasy football will again feature weekly and year-end prizes from Shreveport's PizzaRev location (6301 Line Ave.).
Look for the Week 7 Player of the Week nominees on the Friday Night Live app.
2020 PLAYER OF THE YEAR QUALIFIERS
Preseason:1 Ashur Hall, Benton; 2. Ean Burch, Loyola
Week 1: 1. Khameron Boykins, Logansport; 2. Mitchell Ramsey, Byrd
Week 2:1. Ckelby Givens, Captain Shreve; 2. Gray Walters, Benton
Week 3: 1. Quintavion White, Northwood; 2. Demajah Riley, Huntington
Week 4: 1. Ethan Busby, St. Mary's; 2. Jaylin Williams, Minden
Week 5:1. Dustin Lang, Calvary; 2. Cooper Sanders, North Webster
Week 6: 1. William Berry, Byrd; 2. Graeme Fidelak, St. Mary's
Twitter: @RoyLangIII