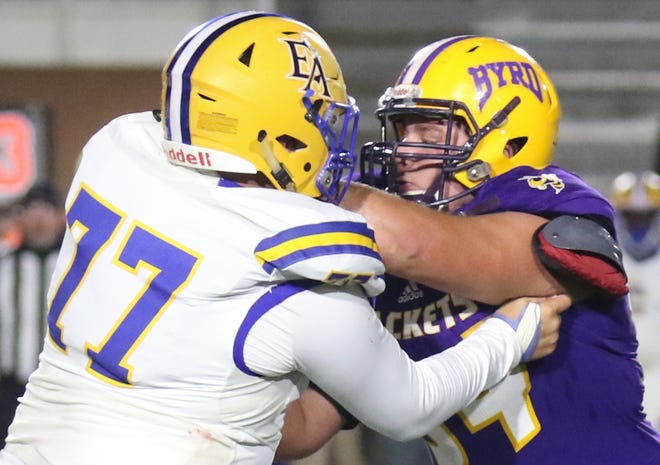 Byrd's Berry, Ramsey could have been ticketed for speeding past East Ascension
Sometimes it pays to just be good rather than lucky. And the 2020 version of Byrd High football seems to be pretty good even though they got a case of the "coasties" Friday night against East Ascension in Lee Hedges Stadium.
Ahead of the late-added visitors from Gonzales by three scores in the first half, the Jackets didn't manage their posterity well. They had a chance to go for the jugular and put the Spartans away. Instead, they seemed to climb into their easy chairs and attempt to coast past the visitors. Then they had to rely on a solid defensive effort in the second half to get out of the recliners and stop a late charge by the visitors. An interception by Brayden Hermes with about 5 minutes to play spoiled the Spartans' hopes at an upset.
HERE'S HOW OTHER AREA TEAMS FARED
The 27-20 victory allowed LSWA No. 10 Byrd (5-0) to maintain its status as arguably the most successful team in northwest Louisiana so far. It's certainly one of the hardest working troupes, because the Jackets aren't loaded with next-level talent. And they found out the hard way that the Spartans made the long trip north with winning on their minds.
"That's a good team over there. A couple of weeks ago they lined up and beat Warren Easton, which is one of the best teams in the state in any class," Byrd coach Mike Suggs said. "We were fortunate to get out to a quick start and get up 21-0 on them. Then I think we relaxed a little bit. They lined up and made some plays."
The speed of William Berry and Mitchell Ramsey were the difference on this night. Had the duo been seen by law enforcement at the contest, they probably would have been ticketed. Ramsey took the opening kickoff and sprinted 83 yards for the first Byrd score and added another 59-yard run. Berry took a pass from wide-eyed quarterback Lake Lambert over the middle and ran away from the Spartan secondary for Byrd's 70-yard clinching score.
"We shot ourselves in the foot a lot," Lambert said. "But we overcame, performed Byrd football and got the win. We pounded, pounded, pounded it until they started coming in then we got a wide open play."
Click here to read the rest of The Times article.