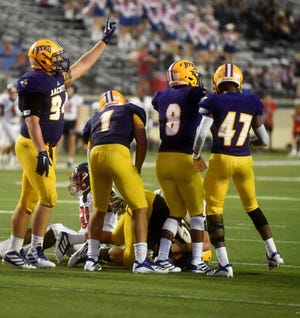 Countdown to kickoff: Byrd seeks error elimination in early going
(Editor's note: The high school football season in northwest Louisiana will launch Oct. 1 with the regular season slated to end Nov. 20. Today, The Times takes a look at Byrd in our countdown to kickoff.)
A quick start and eliminating mistakes in the early going are something the Byrd football team must do when the season opens Oct. 1 against Calvary according to coach Mike Suggs.
Last season, the Jackets were up and down with their play, which nearly drove the longest tenured coach in the region crazy.
"There were times that if I had any hair, I would have pulled it out," Suggs joked. "When we did things right, we were pretty good."
The 2020 version of Byrd football looks bright thanks to veterans in the line on both sides of the ball. Senior offensive linemen Josh Courtney, Michael Jenkins, Caden Rainer, Marshall Miller and Bobby Simpson should give new quarterback Logan Pons plenty of protection. Pons started the Parkway game last season and has put in his reps in the off-season,
Click here to continue reading the rest of The Times article.